About Mediator
Professional Certification:
Warren has obtained the designation of CHARTERED MEDIATOR (C.Med.). It is Canada's most respected professional credential for practicing general mediators. The designation is in recognition of experience, education and expertise in the field of mediation.

Education:
Master of Laws (LL.M.) specializing in Alternative Dispute Resolution

–

Osgoode Hall Law School of York University

Bachelor of Laws (LL.B.) from the University of Western Ontario
Bachelor of Commerce (B.Com. Honours Economics) from McGill University
Various Mediation/Arbitration Training including:

Advanced Mediation Course – Pepperdine University School of Law – Straus Institute for Dispute Resolution
Advanced Mediation Clinic – CDR Associates, Boulder Colorado
Abitration II – University of Toronto, School of Continuing Education
ADR Workshop – University of Windsor, Stitt Feld Handy ADR
Advanced ADR Workshop – University of Windsor, Stitt Feld Handy ADR
Interpersonal Mediation – St. Stephen's Community House, Conflict Resolution Service
Experience:
Warren Morris has successfully mediated numerous complex matters, ranging from multi-party financial reorganizations to sensitive family and estate disputes. He can assist parties in identifying and addressing difficult issues head on while maintaining the parties' dignity and respect for each other.
In the past, Warren has frequently conducted mediations for:
The Ontario Mandatory Mediation Program (Toronto)
Canadian Human Rights Commission
the office of the Information and Privacy Commisioner/Ontario
the Farm Debt Mediation Service, Agriculture Canada
the General Insurance OmbudService for Ontario (Insurance Bureau of Canada)
the Scarborough Conflict Resolution Service
Warren has been a member of the following ADR (Alternative Dispute Resoluation) rosters:
Ontario Mandatory Mediation

Portfolio Management Association of Canada*

General Insurance OmbudService for Ontario (Insurance Bureau of Canada)*

Independent Third Party Reviewer (Arbitrator), Canada Customs and Revenue Agency, Office of Dispute Management

Farm Debt Mediation Service, Agriculture and Agri-Food Canada

National Master Standing Offer for Mediation Services, Public Works and Government Services Canada*

Under contract with AWR Inc., Warren provides telephone ombudsman services for the International Franchise Association and the Canadian Franchise Association*.
(*still active)
In 2020, Warren was named as a charter member of
the Canadian Academy of Distinguished Neutrals, Ontario Chapter.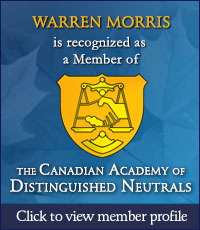 Warren has lectured and taught on such topics as Alternative Dispute Resolution (ADR), mediation, negotiations, contracts, wrongful dismissal and employment law, human rights, workplace privacy, investigations, legal writing and family law. He has taught for York University Certificate Program in Dispute Resolution, the Ontario Bar Admissions Course, the ADR Institute of Ontario, the Ontario Human Rights Commission, the YMCA Enterprise Centre, Jewish Vocational Services of Toronto, Upper Canada Dispute Resolution and the International Ombudsman Association.
Earlier in his career, Warren was employed as legal counsel for Legal Aid Ontario and later with the Catholic Children's Aid Society, where he developed expertise in litigation. Later Warren was employed as a mediator with the Office of the Information and Privacy Commissioner for Ontario, where he mediated access-to-information disputes and investigated privacy complaints. Now, Warren is a part-time Adjudicator with the Assessment Review Board, where he conducts hearings, renders decisions and also mediates property valuation/assessment appeals.
Personality:
Warren's relaxed style assists clients, both individuals and corporations, to feel at ease during mediation sessions, providing an atmosphere conducive to settlement.
Professional Associations:
The Law Society of Upper Canada*

The ADR Institute of Ontario*

–

Board Member

The Ontario Bar Association – ADR Section

The International Ombudsman Association
The Canadian Institute of Mortgage Brokers and Lenders
The Independent Mortgage Brokers Association of Ontario
(*current)

Other professional Activities:
Warren has experience and is professionally engaged in the fields of real estate and wealth management, particularly:
Private mortgage lending
Mortgage brokering
Click here for more information